America's Top Innovative Teacher of 2018: Dr. Kathleen Lanman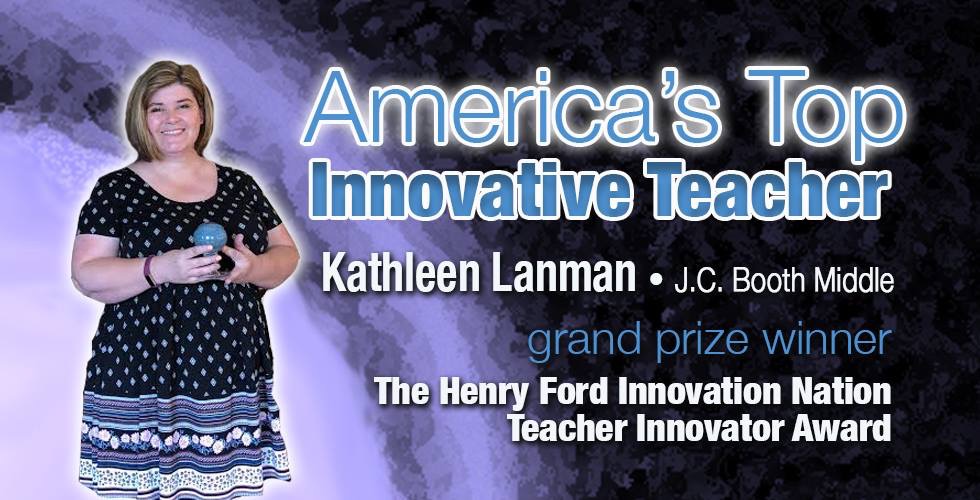 A veteran in the K-12 InVenture Prize, Dr. Kathleen Lanman has been recognized as one of the Top 10 Innovative Teachers by The Henry Ford Museum of American Innovation. Dr. Lanman is a science teacher in the STEM program at J.C. Booth Middle in Fayette County. Dr. Lanman is the only 2018 recipient of the award from Georgia. This award recognizes teacher who utilize their classrooms for innovation, creativity, problem solving, and critical thinking.
For the past two years, Dr. Lanman's students have won the K-12 InVenture Prize and advanced to the National Invention Competition and Entrepreneurship Expo (NICEE). Additionally, Dr. Lanman has won the K-12 InVenture Prize "Top Middle School Teacher" award for two consecutive years.
According to The Henry Ford Museum, the judges look for teachers "who inspire their students to challenge the rules and take risks, who demonstrate how to be collaborative and empathetic, and teach the value of learning from staying curious and learning from failure." As a grand prize winner, Dr. Lanman went on a week-long "Innovation Immersion Experience" at the Henry Ford Museum in Michigan during the summer of 2018.
For more information, check out Fayette County Public Schools' article about Dr. Lanman and other 2018 prize winners!