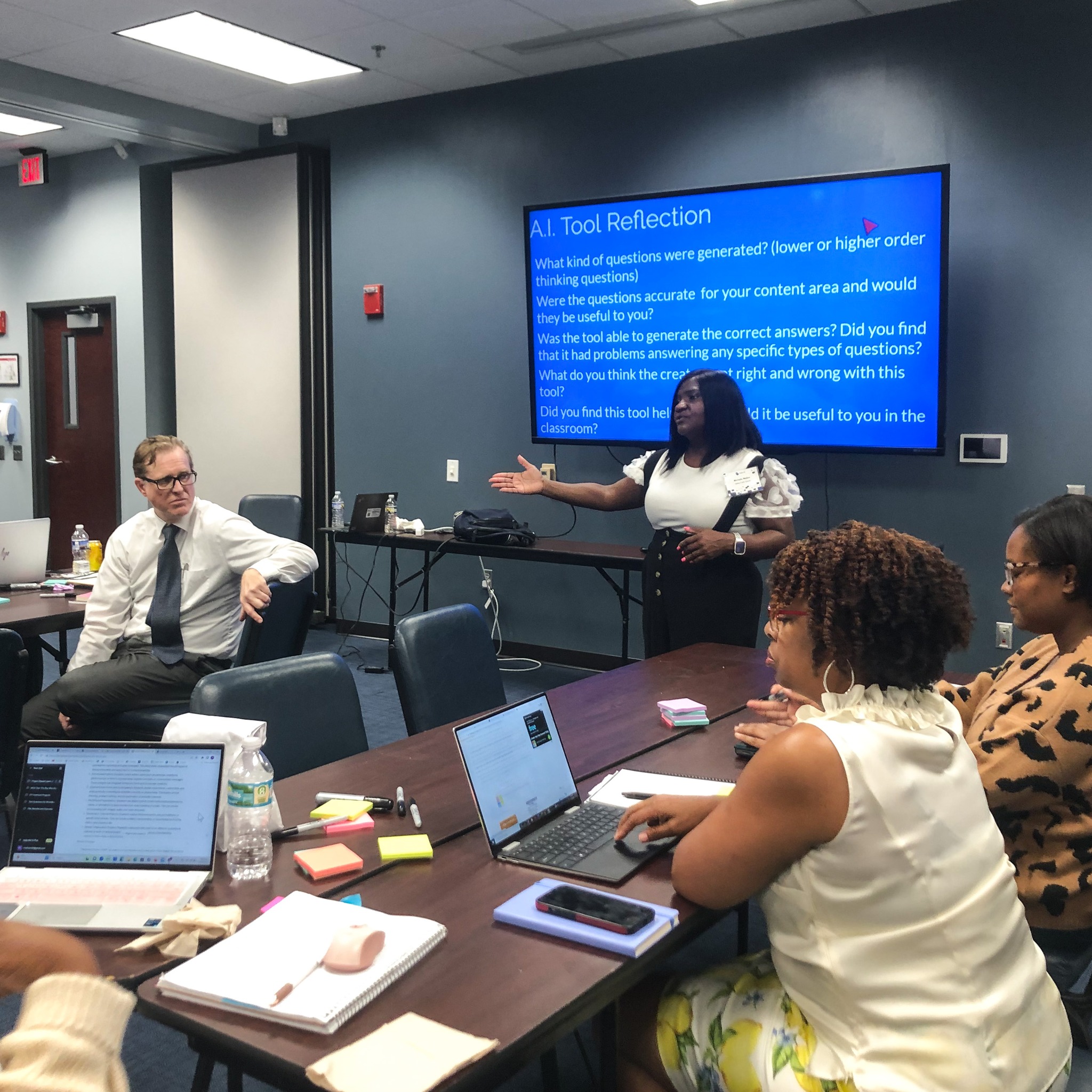 Sep 08, 2023
The Georgia AIM project's work to build K-12 innovation, entrepreneurship, and artificial intelligence skills and educational opportunities in South Georgia is moving forward as teams from Georgia Tech and Southern Regional Technical College (SRTC) are working together to synthesize the results of a recent workshop with teachers, business, and community leaders in Thomasville. The Georgia AIM project, funded by a $65 million federal grant, supports a total of nine inter-related projects throughout the state and is designed to increase job and wage opportunities in distressed and rural communities and among historically underrepresented and underserved people.
SRTC hosted the workshop in July, bringing together industry professionals, government officials, educators, and community members from South Georgia along with a team of STEM education specialists from Georgia Tech's Center for Education Integrating Science, Mathematics, and Computing (CEISMC), another grant partner. The overall goal is to work with business and educational leaders in South Georgia to help prepare area students for high-tech jobs that will strengthen the community.
"By hosting events like the recent workshop at Southern Regional Technical College, we are offering our local educators the opportunity to engage in productive collaborations and collaborative learning where teachers connect to share ideas, methodologies, and experiences can lead to a more enriched and effective educational environment," said Willie Allen, SRTC's Director of Innovation. "Furthermore, bridging the gap between the educational community and local business creates alignment between what is being taught and the skills that are in demand in the local job market," he said. "These workshops can lead to the development of new teaching methodologies and curriculum that focus on entrepreneurship, AI, and innovation."
Some of the topics that emerged from the July workshop included: teachers' resilience and ability to adapt; community concerns around entrepreneurship and artificial intelligence; the importance of engaging and aligning local business and government efforts with schools and education; and establishing benchmarks for success.
"I think sometimes when you are in the classroom you forget how vital and connected your work is to what comes next for students," said Katie Chastain, Chief Learning Officer for education technology platform Tisk/Task, and an employee of the Thomasville-Thomas County Chamber of Commerce. "The world of work is constantly changing, and we want teachers to be able to have a front row seat to those changes. We are making a big ask of teachers to prepare students for this unknown future, so it's also important that they have the support of businesses and community partners."
In the next step of this co-design process, SRTC, other local partners, including the Chambers of Commerce, and the CEISMC team will regularly engage during the school year with the initial cohort of South Georgia partners such as the teachers from the workshop to get their feedback and reflections on the workshop activities and findings, identify highest priority opportunities and pain points, and begin to co-develop solutions for the near- and long-term future. Everyone will work towards a follow-up workshop next summer that brings together the original cohort and additional contributors to celebrate innovation within the South Georgia communities.
"Equipping students with skills in entrepreneurship, innovation, design-based thinking, and embracing the future of artificial intelligence is essential," said Danyelle Larkin, educational outreach manager with CEISMC. "The experiences we are creating with Georgia AIM partners will provide students with diverse career opportunities available to them in their local communities."
--Randy Trammell, CEISMC Communications