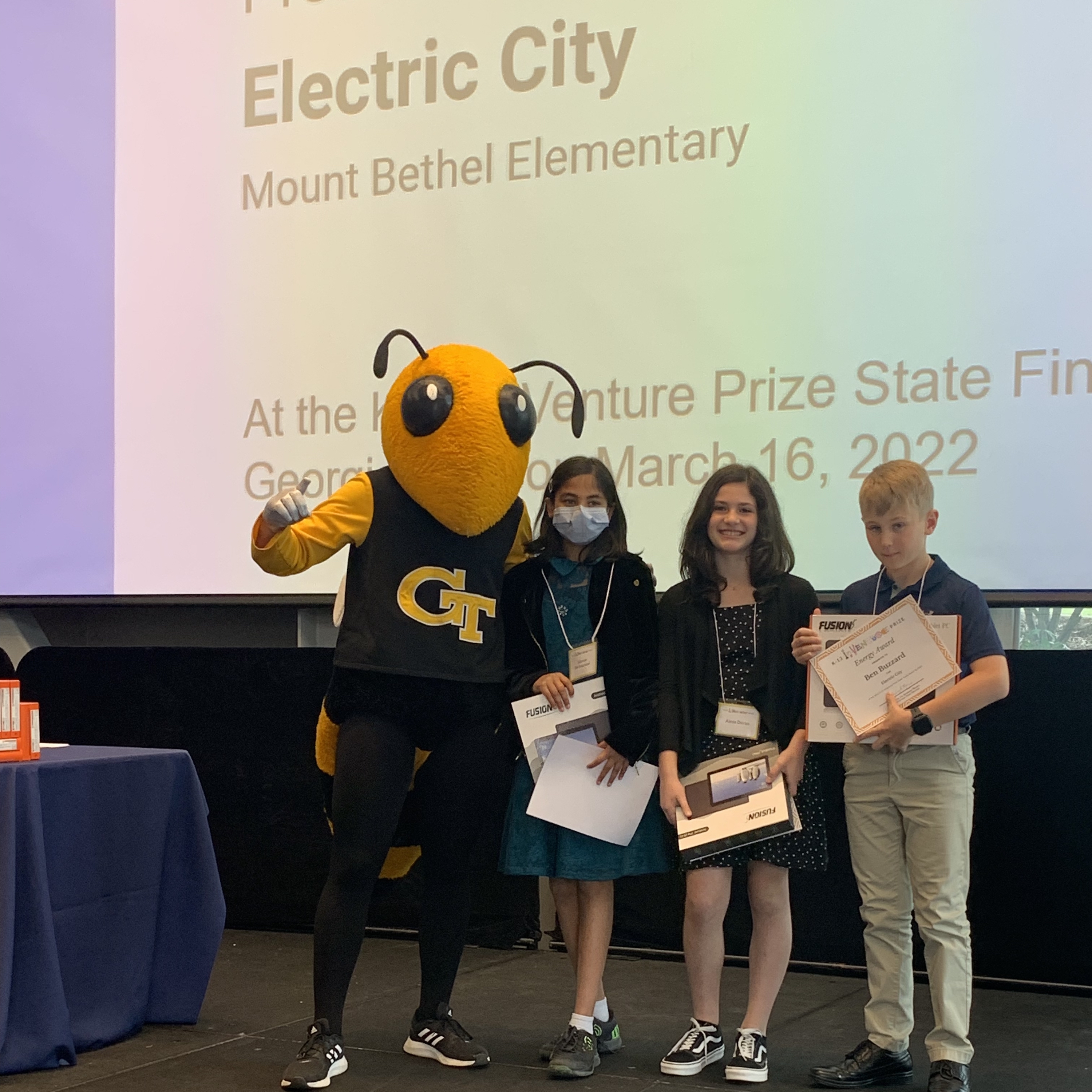 Apr 11, 2022 - Atlanta, GA
The Center for Education Integrating Science, Mathematics & Computing (CEISMC) hosted approximately 150 elementary, middle, and high school students, parents, and teachers on campus on March 16 in a day-long celebration of science and invention. 
The students, from elementary, middle, and high schools across the state, were award-winning inventors who participated in the K-12 Inventure Prize competition. The K-12 InVenture Prize Competition at Georgia Tech encourages elementary, middle, and high school students to present projects that identify real-world problems and design unique solutions.  
"I'm so proud of the participating students and teachers and the inventiveness that they displayed—not to mention persistence and resilience to go through this process during a pandemic. I felt so inspired by their confidence and commitment to making the world a better place," said Roxanne Moore, senior research engineer and director of the K-12 InVenture Prize program. 
The event included an awards ceremony for the student inventors. Each first-place team received a patent search or patent filing offered by the Georgia Intellectual Property Alliance (GIPA), which was presented at the ceremony by Craig Cupid, law partner at BakerHostetler. Cameron Schriner, an engineer with local software company IronCAD, also spoke at the event. 
Award-winning student projects included: a scalable design tool to automate rainfall data; an asphalt aggregate designed from recycled and locally available materials to create greener, longer-lasting roadways; an at-home medical monitoring program; an original musical instrument for musicians with arthritis; a sturdy, hard-to-break plastic bag; the "Fish Saver," which helps prevent over-fishing in area waterways; an eco-friendly foldable milk carton; a germicidal UV-C silicone pad designed to sanitize laptop keyboards; and an app that provides tips in conserving water and energy. 
Simran Melinamani, a fifth-grade inventor from Mount Bethel Elementary in Cobb County, worked with her team to develop the free app "Electric City," to fight climate change. "I like building things and computers, so I guess I would call myself an inventor," she said. "The most important thing I learned was how to work as a team and how to collaborate. And also, how to pivot and change ideas when something doesn't work." 
Her father, Sanjay Melinamani, said he was pleasantly surprised at how autonomously the young inventors were in building the app. "Initially I thought they would need more hand holding. But in fact, they were able to take it from zero knowledge all the way to almost a professional level to build this prototype. So, I think they, the kids, are very capable in inventing things." 
Petrina Baxter, who teaches at Kennesaw Mountain High School, said she stresses "the entrepreneurship piece" in her classes and works through the process of starting and building a business with her students. "They look at market demands. They come up with their own designs. It allows them to explore more on the inventing side," she explained. Baxter added that her students were "ecstatic" about being singled out for awards and that she couldn't be prouder of their accomplishments. "We have learned so much through this process and are all very excited to be a part of this celebration today," she said. "It's a very good day." 
In addition to the award ceremony, students participated in hands-on stem activities including EarSketch and Micro:bit coding; engineering design and tours of Georgia Tech's Invention Studio. The day of events concluded with the annual Georgia Tech InVenture Prize Live Show at the Ferst Center. Nicknamed "American Idol for Nerds," the Emmy Award-winning InVenture Prize at Georgia Tech is an interdisciplinary innovation competition open to all undergraduate students and recent graduates of the Georgia Institute of Technology. 
For more information on the K-12 InVenture Prize curriculum and competition, visit https://k12inventure.gatech.edu or www.k12inventure.org. 
—Randy Trammell, K-12 Inventure Prize Communications