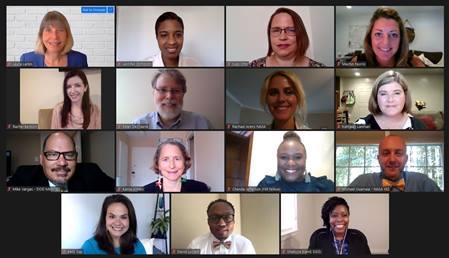 Sep 30, 2020 - Atlanta, GA
This year, the Albert Einstein Distinguished Educator Fellowship (AEF) Program named Dr. Kathleen Lanman an Albert Einstein Distinguished Educator Fellow. Dr. Lanman is a Lead Teacher for the Georgia Tech K-12 InVenture Prize and a STEM teacher at J.C. Booth Middle School in Fayette County, Georgia.
The AEF Program has been running for 30 years and provides accomplished K-12 educators in the science, technology, engineering, and mathematics (STEM) fields with the chance to serve in the national education arena. Dr. Lanman will spend eleven months with fourteen other Fellows working in Federal agencies or in U.S. Congressional offices in Washington, D.C.
"Dr. Lanman stood out to me immediately as she has consistently mentored impressive student inventors and has served as a lead teacher," said Roxanne Moore, Director of K-12 InVenture Prize. "We are so proud to have her advocating for STEM and invention and entrepreneurship education at the federal level."
With her work as a legislative team member for Senator Jacky Rosen of Nevada, Dr. Lanman is focusing on STEM education and STEM workforce development.
"I've long believed that STEM should be accessible to every student, not just the highest achievers," said Dr. Lanman. "We need to build flexible pathways that allow our students to receive the education, training, and certifications needed to join the STEM workforce.
All 2020-2021 Einstein Fellows come with diverse STEM teaching backgrounds from K-12 schools around the United States. The Fellows will provide the Federal agencies and U.S. Congressional offices with insight of real-world experiences within the classroom. Additionally, the Fellows will learn the role of the Federal Government in education, gain knowledge of resources available to students and educators, and gain a broader understanding of national education.
Sponsors of the AEF Program currently include the Department of Energy (DOE), the Library of Congress (LOC), the National Aeronautics and Space Administration (NASA), the National Science Foundation (NSF), and the Naval Surface Warfare Center Carderock Division (NSWC Carderock). The Program is managed by the U.S. Department of Energy (DOE) Office of Science's Office of Workforce Development for Teachers and Scientists in collaboration with the sponsoring agencies and the Oak Ridge Institute for Science and Education (ORISE). ORISE is a DOE institute designed to strengthen scientific initiatives through independent peer reviews.
Past AEF Program Fellows have made monumental contributions including designing new parts of national STEM education programs, initiating collaborations and partnerships with Federal agencies, and drafting legislation in order to improve K-12 education in the United States.
"Invention and entrepreneurship education give students the skills and confidence to try something completely different and to be their own boss," said Dr. Lanman.
By the end of the Program, Dr. Lanman and other Fellows will return equipped with access to a national network of education leaders, a deeper understanding of STEM education, and a preparedness to make new contributions to their schools and school districts.