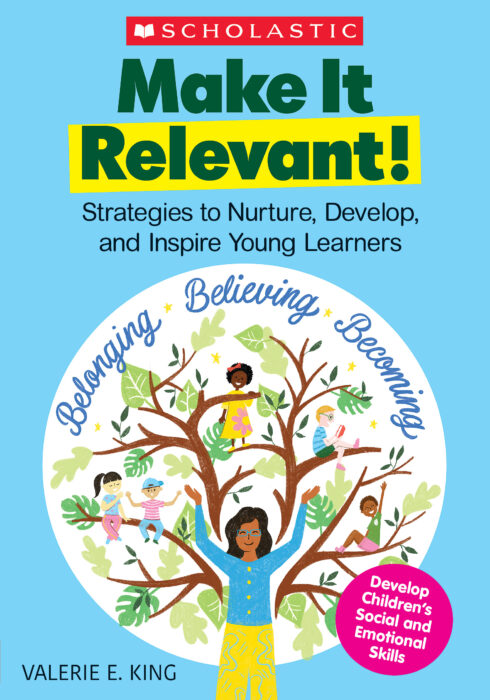 Feb 28, 2022 - Atlanta, GA
Center for Education Integrating Science, Mathematics & Computing (CEISMC) teaching partner Dr. Valerie King likes to say that teaching is being a magician, an actor, and a movie star. It's part inspiration, part magic and part performance. But more than that, it's the ability to connect to students and inspire them that defines a good teacher.
In her new book, Make it Relevant: Strategies to Nurture, Develop, and Inspire Young Learners, Dr. King focuses on how educators can become more relevant than ever and excel in the profession by forming deeper emotional bonds with their students.
Published by Scholastic Teaching Resources, the book shows teachers how to have more impact on their students by leaning in, establishing implicit understanding, tackling emotionality, transforming culture, looking around, and creating experiences. Practical strategies, engaging anecdotes, and ready-to-use mini-lessons are also included.
"Educators today often feel out of touch with their students," King says. "To effectively teach children, teachers must first connect with them and understand them."
While this book is practical and relevant, it is also very personal, she says. "It is a voice that illustrates what learners need and what little things teachers can do to meet those needs in a big way. Each chapter is intentionally framed with a personal vignette that influenced the idea in the chapter. Within each chapter are practical rituals, routines, and tasks teachers can implement with their own learners."
King, an Advanced Learning/gifted teacher at Kennesaw Elementary School with 23 years of teaching experience, works with CEISMC as a K-12 InVenture lead teacher. The K-12 InVenture Prize Competition at Georgia Tech encourages elementary, middle, and high school students to present projects that identify real-world problems and design unique solutions.
She has led local student teams to compete at Georgia Tech at the 2021 K-12 InVenture Prize State Competition – Write on and Whole Otter Love. As a CEISMC GIFT (Georgia Intern Fellowships for Teachers) fellow, she co-wrote K-12 InVenture curriculum for kindergarten and grades 1-3.
"Dr. Valerie King is a treasure to the teaching profession and a tremendously valued member of the K-12 InVenture Prize Community.  It can be challenging for teachers to encourage students to be inventive even at older grade levels, and the way Valerie has shown leadership in defining what it means to teach invention at the K-3 levels is unprecedented, "says Dr. Roxanne Moore, Senior Research Engineer and Director of the K-12 InVenture Prize. "I am so proud of her for writing this book and sharing more of her teaching wisdom and passion."
King says she hopes the book will inspire educators to dig deep. "My aspiration for this book is that anyone who works with children, both little and big, will see themselves in these pages, recognize and reflect on their intent, and use that personal lens to ensure their learners are nurtured to a sense of belonging, developed to believe in themselves, and inspired to become who they are meant to be," she says.
"Teaching is equal parts challenge and laughter and reflection and action. There are so many facets of being a teacher and dissecting what really matters is sometimes our greatest hurdle," King says. "I know this for sure: What matters most in classrooms is building relationships with learners through presence, engagement and humanistic efforts."
For more information on the K-12 InVenture Prize curriculum and competition, visit https://k12inventure.gatech.edu or www.k12inventure.org.