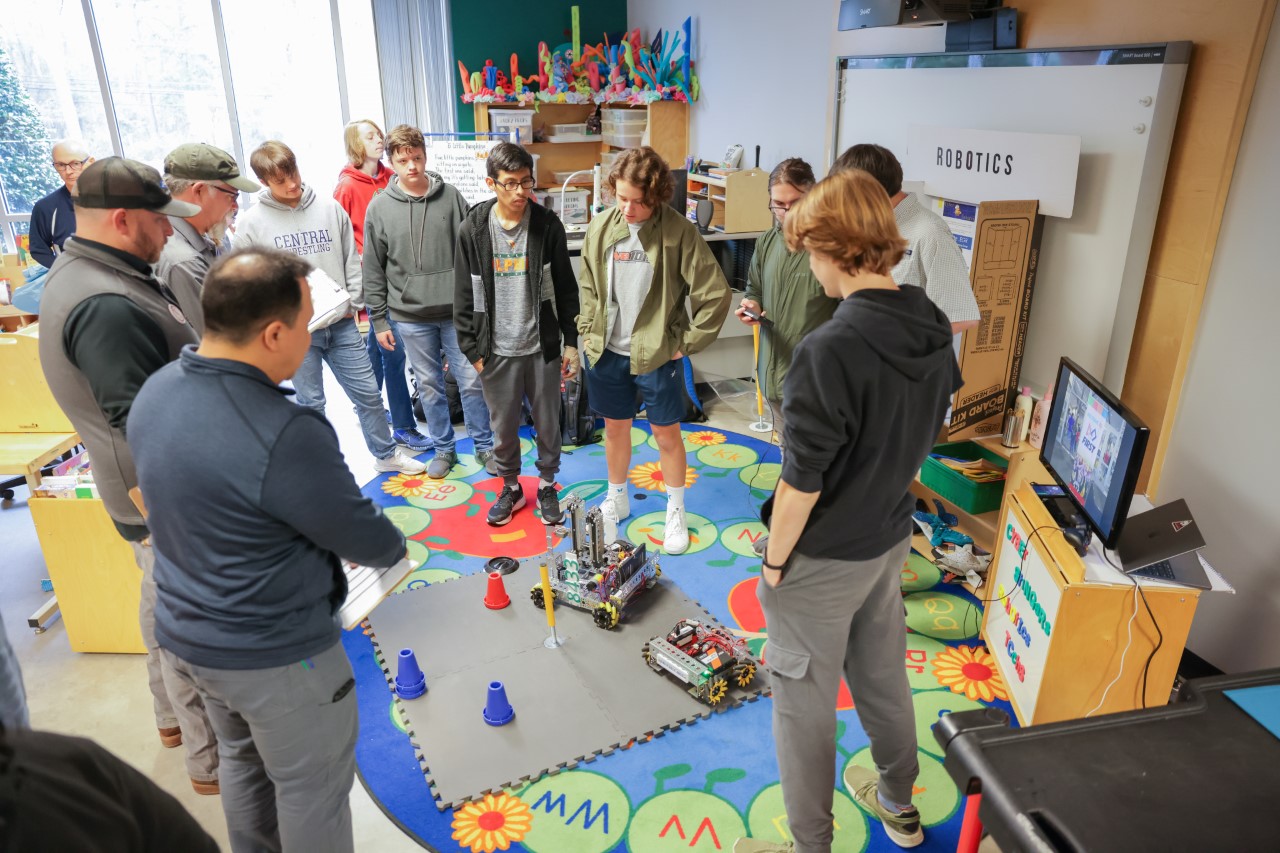 Feb 17, 2023 - Thomasville, GA
Approximately 140 elementary through high school students participated in South Georgia Innovation Day last Friday, February 10, presenting their own inventions as a part of Georgia Tech's K-12 InVenture Prize competition. 
The event was held at Southern Regional Technical College in Thomasville. Community leaders from local businesses judged the projects and presented awards.  
"We are so pleased to see invention education continuing to grow in South Georgia. Georgia Tech is committed to promoting innovative teaching and learning in the area and with new funding provided by the Georgia Artificial Intelligence Manufacturing Corridor coalition grant, we hope to see even more students engaged next year," said Danyelle Larkin, educational outreach manager with Georgia Tech Center for Education Integrating Science, Mathematics, and Computing.  
The GA-AIM project is supported by a $65 million grant Georgia Tech received in September 2022 from the U.S. Department of Commerce's Economic Development Administration. The goals of the project are to support a statewide initiative to combine artificial intelligence and manufacturing innovations with transformational workforce and outreach. The grant is also designed to increase job and wage opportunities in distressed and rural communities and among historically underrepresented and underserved people.  
Through GA-AIM, the K-12 InVenture Prize will collaborate with rural communities, school districts, and businesses in Southwest Georgia, Southeast Georgia and Northeast Georgia to provide invention, entrepreneurial, and artificial intelligence manufacturing education to expand knowledge and future career opportunities accessible to K-12 students in rural areas. 
In addition to the competitions, students also participated in hands-on STEAM learning activities, like the Rigamajig building kits presented by Thomasville Center for the Arts, as well as simulators and Virtual Reality experiences provided by Southern Regional Technical College. The Thomas County Central High School FIRST Tech Challenge team also demonstrated their robotics and coding.  
"We decided to do K-12 InVenture Prize this year because we were looking for an enrichment project that the kids could participate in that would challenge them but would also be engaging," said Daneen Ingles, a 4th grade math, science, and social studies teacher at Cross Creek Elementary School. "We have learned so much through our experience and the kids have really enjoyed the process even on the hard days. We hope to be able to improve our instruction and guidance next year to help the kids be even better problem solvers and innovative." 
The following winners from the K-12 InVenture Prize are invited to participate in the state finals competition at Georgia Institute of Technology in Atlanta on March 15.  
Elementary School Division Winners   
First Place: "The Egg Saver," Guthrie Sprague, Ruby McInnis, and Trinity Sloan, Cross Creek Elementary School 

Second Place: "Train Hackers," Milo Lindsey, Marrik NeSmith, Sarah Stewart, and Colton Cooper, Cross Creek Elementary School 

Third Place: "Littertron," Caden Singletary, Brayden Greene, Anam Barkat, Ander Oliveto, and Preston Vanheingen, Cross Creek Elementary School 
Middle School Division Winners 
First Place: "Organ Eezs," Ava Dennis, Cassidy Watts, and Emma Brannen, Thomasville YMCA 

Second Place: "Star Seer," Janiya Ivey and Olivia Phillips, Thomasville YMCA

Third Place: "Meddie Reminders," Lindsay Hinson, Thomasville YMCA
High School Division Winners  
First Place: "Smart Feeder," Dixie Rose Blue and Hailey Hudson, Thomasville High School 

Second Place: "Smart Bird Feeder," Hull Krech, Jr., Thomasville High School 

Third Place: "Wash n' Go," Rebecca Holt, Abby Kennedy, and Avery Hurst, Thomasville High School 
In addition, "Your Counselor Phone App" invented by Jacqueline Serrano from Thomasville High School, won the People's Choice Award and the "Pool Drowning Lights" by Antania Thomas from Thomasville High School won the Georgia Tech Judge's Award.  
"The energy and enthusiasm of the students as they described their vision was refreshing and provides a glimpse of the future, and it is bright!  We look forward to continuing our support of this program to inspire the dreamers of tomorrow," said Corey Risden, director of operations at CheckMate Industries in Thomasville, who served as a judge at the event.  
Educators or afterschool program providers interested in participating in South Georgia Innovation Day 2024, can contact program coordinator Katie Chastain at katie@tisktask.org.  
For more information on State Finals, click here. 
For more information on the K-12 InVenture Prize competition, click here.  
--Randy Trammell, CEISMC Communications